---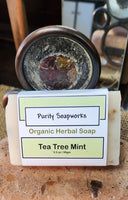 The combination of tea tree and peppermint make an amazing soap.
Tea Tree is very powerful against skin inflammation. It prevents dirt and oil from accumulating on your skin. It even unclogs pores and diminishes skin blockage, allowing you freedom from skin inflammation stresses. It saturates and deeply cleanses the skin.
Tea tree soap can help soothe dry skin by reducing itching, swelling and irritation with its anti-inflammatory properties. These properties also make Tea Tree soap effective at combating acne. It may also help to reduce acne scars.

We add Peppermint essential oil because it is traditionally known for its antispasmodic, anti-inflammatory, antiseptic and it's toning properties. It's purifying astringent property opens and deeply cleans pores.  Peppermint leaves are added as an exfoliant.

4.5 ounces