---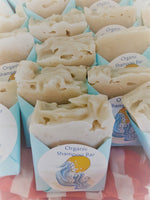 This little shampoo bar is packed full of organic botanicals, herbal infusions, and pure essential oils that will leave hair soft, shiny, clean, and most of all healthy!
Purity Soapworks shampoo bars formula does not contain any artificial fragrance, color, preservatives, detergents, foam boosters, sodium lauryl sulfate SLS, DEA, or propylene glycol. Our formula helps to decrease dandruff, stimulate the scalp and promote fuller, more radiant hair.

Our shampoo bars include Castor oil because increases scalp blood flow which promotes healthier hair and growth and also cuts down on inflammation. Anti -microbial properties in Castor oil helps keep out harmful bacteria.
Other hair loving oils included are Apricot Kernel oil which reduces excess dryness of scalp and promotes hair growth, strength plus we add Nettle Leaf which works as an astringent for deep cleaning.  Cocoa Butter, Coconut oil, Shea Butter, and Rosemary Essential Oil combined make this one of the best shampoo bars available.

Try our environmentally-friendly biodegradable and plastic free shampoo bar.

4.5 oz