---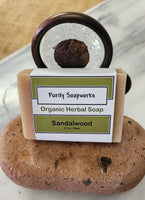 Sandalwood is a deep, woody scent and often smells like a mix of floral, rich, balsamic, soft, and sweet accents.
Sandalwood naturally contains aromatherapy effects and the extracted oil has anti-bacterial properties. The oil benefits skin as well as hair.
Sandalwood is rich in antioxidants and is known to prevent skin sagging and the consequent formation of wrinkles. It is also capable of fighting the damage caused by the presence of free radicals in the skin.
We produce all of our soaps with the best softening and conditioning agents nature has to offer. Each bar starts with pure natural olive oil, coconut oil, sustainable palm oils, and more, producing a handmade soap that lathers richly and moisturizes as it cleanses.
4.5ounces