---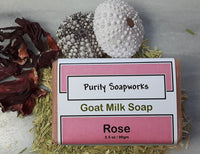 Rose is often called the Queen of Flowers and with good reason.  The fragrance of roses is the basis for many fabulous perfumes and the rose itself has been used by lovers throughout history to convey their messages of affection and passion. Roses are connected to sensations of love and desire. Purity Soapworks incorporates the scent of real roses into their soap using a rose absolute that has the most true scent available.  It is the real thing which is what makes it so fabulous.

As the aroma of rose absolute begins to fill your senses, visualize a garden with each rose blooming as the breeze spreads its beauty gently along, reaching your breath as you inhale. By focusing on scent, you can transform a stressful environment into one that allows you to meditate in peace and relaxation.
Rose soap contains ordinary oils and sugars that will catch humidity into dry skin cells. The citral compound found in Rose Absolute has strong antimicrobial properties. When applied topically, it can help to purify the complexion and boost skin health.