---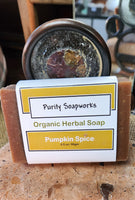 Perfect for restoring a feeling of comfort and warmth, the addition of spicy scents like allspice and nutmeg is highlighted by pumpkin and a hint of orange for an energizing boost.
This seasonal soap is a FALL MUST HAVE! Pumpkin Spice, a warm complex sweetness and delicate spices. This blend of pumpkin, cinnamon, ginger, nutmeg and allspice remind you of a pumpkin pie every time you wash with your bar.
All natural ingredients of olive oil, coconut oil, sunflower oil and shea butter make this a mild and gentle soap bar.
Purity Soapworks produces the highest quality of natural handcrafted soaps using the best softening and conditioning agents nature has to offer.

We make small batches that are hand poured, hand cut, cured for six weeks, hand wrapped, and hand labeled.
Seasonal item, limited stock.
4.5 ounces