---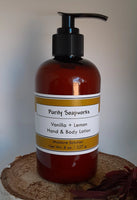 An exquisitely light, natural body lotion packed with rich botanical emollients to soothe & soften even very sensitive skin while providing 100% daily hydration. Our body lotion blends Aloe Vera, green tea & chamomile extracts plus antioxidants to nourish and replenish skin on contact. Our lotion absorbs quickly so it feels light enough to use all day, every day.
A special warm, lingering and pleasing scent. This lotion absorbs into your skin leaving a smooth and re-hydrated feeling. You will love it. Works wonderful on dry to normal skin. Vanilla Lemon has a special cozy scent of vanilla, laced with the irresistible fresh scent of lemon and a dash of nutmeg for edge.
Offered in an 8 oz glass bottle.