---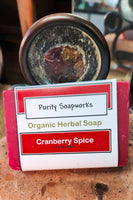 Smells just like Christmas and the Holiday Season!
This fabulous soap has the hints of clove, cinnamon, and rosemary, and most of all...fresh picked cranberries.
All natural ingredients of olive oil, coconut oil, sunflower oil and shea butter make this a mild and gentle soap bar.
Purity Soapworks produces the highest quality of natural handcrafted soaps using the best softening and conditioning agents nature has to offer.

We make small batches that are hand poured, hand cut, cured for six weeks, hand wrapped, and hand labeled.
Seasonal item, limited stock.
4.5 ounces