---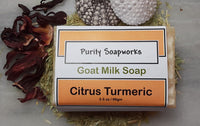 A vibrant sage fragrance and fresh sweet orange scent.
According to research, the benefits of orange oil include:
Fighting cancerous tumors
Increasing circulation
Killing bacteria and pathogens
Decreasing wrinkles
Improving complexion
Easing anxiety
Decreasing hypertension
Reduces dandruff and it doesn't strip the hair of its natural oils. Ni
Turmeric is added to this soap helping acne prone skin get the proper treatment it needs. Because turmeric acts as a natural anti-bacterial agent and helps provide Vitamin E to moisturize and revitalize your skin cells it further helps to battle acne and restore skin to its natural healthy glow. Below is a list of all the wonders turmeric soap can do for you and your skin.
Acne Natural Treatment
Revitalizes skin
Protects skin from acne & rash
Gently exfoliate excess skin
Stimulates blood circulation
Invigorates the skin to create a healthy glow
Acts as a natural anti-bacterial agent
Helps prevent acne and skin rashes
Vitamin E provides moisture and revitalizes your skin
A natural moisturizer
Has many antibacterial, antimicrobial and antioxidant benefits
Treat a variety of skin conditions gently
Treat and prevent dryness
Relieve skin conditions such as eczema and psoriasis
Excellent for uneven skin pigmentation
Reducing facial hair growth
Approx. 3.5 ounces by weight