---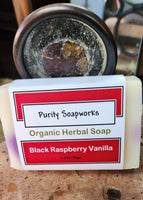 Black raspberries mixed with sweet vanilla beans is a scent you will not forget. Reminds me of a time long ago in Brazil where I was lucky enough to have a dessert that was made of raspberries and vanilla.
Sweet, sudsy, and a wonderful lingering scent throughout the bath and house.
We produce all of our soaps with the best softening and conditioning agents nature has to offer. Each bar starts with pure natural olive oil, coconut oil, sustainable palm oils, and more, producing a handmade soap that lathers richly and moisturizes as it cleanses.
4.5 ounces