---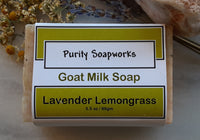 This soap is made using an old heirloom cold process soap recipe. Natural fragrances from pure essential oils of Lavender and Lemongrass with organic lavender flowers are perfect for shower or beside the sink. This is a fabulously thick lather.

The soft, citrus undertones of our Lemongrass Essential Oil will leave you feeling cleansed and serine, while the Lavender Essential Oil leaves a consistent floral scent with a balsamic woody undertone and a floral, herbaceous fresh scent. Perfect combo.
This soap is always the first to sell out at markets, great scent, great moisturizing and great lather.
Approx. 3.5 ounces by weight