---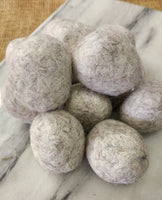 Wool dryer balls are a great way to soften fabric, dry laundry faster, and save money.   They are a natural way to dry your laundry, no chemicals in your dryer load! They replace dryer sheets, thus saving you money. 
As they bounce around in the dryer, the wool balls fluff your laundry, reduce wrinkles, soften your clothes. Wool dryer balls are anti-static, anti-bacterial, and are reusable 100's of times.
Made locally in Ellensburg, high quality.