---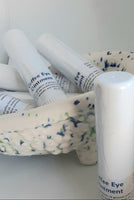 I am so excited to introduce this beautiful new product, Coffee Eye Ointment.
I've changed the packaging to make it easier to use. The application stick, like a giant lip balm tube, makes it so easy to simply swipe across your under eye area, or anywhere you want to use it. No fingers in the jar!

The caffeine in the coffee is astringent, tightening the tissue under the eyes, drawing out excess water and reducing puffiness. Use it under makeup, use it twice a day to reduce the appearance of under-eye bags and dark circles.

The organic coffee infused rosehip seed oil is quickly absorbed and offers antioxidants and vitamin C to brighten and soothe tired eyes. It won't sag your delicate under eye skin in the same way that olive oil or coconut oil will.

I've also added Sea Buckthorne oil and Raspberry Seed oil.
Sea Buckthorne oil reduces inflammation, helps against aging, helps with skin regeneration and helps skin heal quickly. Raspberry Seed oil rebalances your skin's natural oils, improves skin elasticity, reduces wrinkles, dryness and skin lines.

You will love this!


.75 ounce