---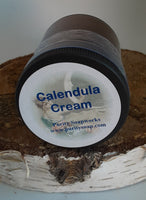 Calendula is a beautiful ornamental marigold that blooms month after month from early spring to first frost. It is believed to have been given its name from the Latin word "calend," which means month. In ancient times, a mixture made of Calendula blossoms in wine was used to soothe indigestion. They used the petals in ointments for treating skin irritations, jaundice, sore eyes, and toothaches. During the Civil War, this flower was used to draw out infection and promote wound healing. Calendula has anti-inflammatory, astringent, antiseptic, antiviral, and antibacterial properties and helps boost the immune system.
Calendula cream is a soothing, multi-purpose skin cream. Calendula or Pot Marigold is well known for its healing properties. This cream is a topical herbal remedy, traditionally used in the treatment of sore & rough skin. It offers relief for rough, dry, irritated or chapped skin. Calendula cream helps to restore healthy skin texture and provides relief for burns. It is gentle enough for rashes and chafing on babies' sensitive skin.
Ingredients: Organic Calendula infused into an organic olive oil, shea and mango butters, avocado, jojoba oils, fresh local beeswax and Vitamin E.