---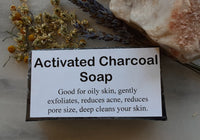 Activated Charcoal Soap an excellent exfoliate, with the ability to remove dead skin cells along with the extraction of dirt and grime and is also known to treat psoriasis and eczema. It is effective for the treatment of dry, cracked skin.
It is safe to use activated charcoal face and body soap to deeply cleanse and detox skin from impurities. The combination of activated charcoal, Cedar Wood essential oil and Lime essential oil will help keep pores clear and skin healthy for a deep glow.
Charcoal soap has the perfect ability to control facial oil, it is also effective in the removal of dead cells, thus providing clean and flawless skin. It works wonders on clearing the pores of the impurities which are responsible for blackheads.