---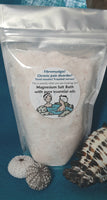 Magnesium flakes coupled with pure Epsom salts and joined with pure essential oils will provide you with an experience to help with stress relief, muscle aches, improving circulation, headache relief, joint pain relief, and Fibromyalgia.
Offering this in two essential oil scents: 
Peppermint + Eucalyptus which reduces pain, relaxes muscles, decongestant, and an anti-inflammatory.
Lavender is a natural remedy for pain, reduces blood pressure and heart rate, and could help relieve asthma systems.