---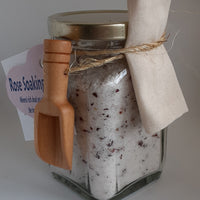 Relax, Unwind, Recharge!
Just in time for Valentines Day, or for anytime, perfect to ease the body and mind.

Bath Soaking Salts are a special combination of Pacific sea salt, Epson salt, Himalayan salt and Dendritic Salt and organic botanicals grown in Purity Soapworks organic gardens.
There are three bath blends:
Rose: a rose is a rose and we've added organic rose petals, jasmine flowers, and bee balm. Moisturizing, high in vitamin C, and may help to stimulate collagen.
Lavender: Calming, relaxing, and we've added sage, rosemary and Lavender Buds
Peppermint: A special combination of Peppermint and Spearmint essential oils, and a hint of Lemon make these salts a cooling effect you'll enjoy.  Special botanicals of Rosemary, Azalean Salt and Peppermint leaves make this a special experience.
For your convenience, and possible your bathtub drains, included is a tea bag in which you may use as a "tea bath" and a handy scoop.
8 oz.