---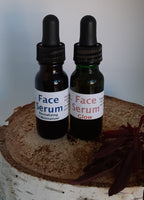 Face Serums are designed to penetrate deeper into skin than other products, especially moisturizers. They are different from oils because the treat pigmentation, aging, acne, and other skin concerns. They are lighter in weight, and can be applied under moisturizer.
Here at Purity Soapworks we offer two serums, Glow, and Revitalizing+Moisturizer. 
A combination of fabulous oils in Glow including Sea Buckthorne Seed Oil, Red Raspberry Oil, Jojoba and Argan oil, makes this the perfect oil for rejuvenating tired skin, inflammation, and conditions like eczema, rosacea, and acne. It is known for strengthening epidermis and the body's cell membranes.
Revitalizing+Moisturizer includes wonderful oils including Tamanu oil which is found to exhibit high antibacterial and wound healing properties, as well as anti-inflammatory properties. It's been shown to promote cell proliferation and the production of certain components of you skin, including  collagen and the healing of scars. Other oils in this Serum are Jojoba, Rosehip Seed Oil, and Pomegranate.
You will love these Serums!